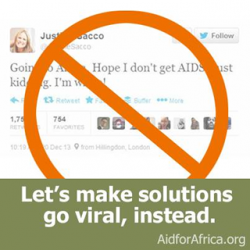 One of the most thrilling moments in my professional career occurred right before the holidays. On December 20th my client – Aid for Africa – was linked with the Justine Sacco debacle.
If you haven't heard, Justine Sacco, a prominent public-relations executive, was boarding a flight from London to Cape Town, South Africa when she tweeted "Going to Africa. Hope I don't get AIDS. Just kidding. I'm white!" For 24 hours, #HasJustineLandedYet was the number one trending topic on Twitter. Soon after, an anonymous supporter registered the domain justinesacco.com and forwarded it to Aid for Africa's donate page providing Aid for Africa with the type of publicity small non-profits only dream of.
So what was it like to be the focus of this unexpected attention? For one, it required making decisions at breakneck speed as reactions across social media were fast and furious. Aid for Africa decided to pivot the discussion from one of hate into an opportunity to discuss our positive work in Africa.
Here were some of the ways we tried to leverage the situation.
Clearing up misconceptions: From the outset, thousands of people were re-tweeting how brilliant we were to link Justine Sacco's name to our donate page. A PR firm even offered our marketing person a job. We immediately set the record straight by tweeting that we weren't the ones who did it.
Addressing the media: We were written about it in over 30 publications including New York Daily News, ABC News, and MSNBC. We made sure not to jump on the anti Justine Sacco bandwagon – especially in light of the fact that she had apologized and was reported to have received numerous death threats. Instead we used the opportunity to turn the incident into a positive by refocusing the message about AIDS and other issues affecting Africa.
Connecting with celebrities: NY Times columnist Nicholas Kristof and Donald Trump with over a million followers each tweeted their support for us and at one point I was conversing with Kristof.


I like the effort by Aid to Africa etc to channel Justine rage to donations, eg http://t.co/QAqBY1HDGK and http://t.co/txraptq5Xk

— Nicholas Kristof (@NickKristof) December 21, 2013

Cultivating donors: We received a major uptick in donations.  We plan on keeping them updated about our work and reaching out to them for future campaigns.
Building our online audience: Over 500 people followed our Twitter account and over 100,000 visited our website. Throughout the day we made a concerted effort to thank people on Twitter who were singing our praise.
In many ways, the most compelling aspect of the story was the linking of our domain name to Justine Sacco – not what she tweeted. Imagine the ramifications it could have for whenever someone says something offensive or controversial. To my knowledge this has never been done before but we may start seeing more of it.